Charlotte61903

wrote:

↑

Mon Jun 20, 2022 12:57 pm

My birthday just passed yesterday, but my chart hasn't been renewed.
It doesn't "renew" as you explain it.
The Chart doesn't change on its own.
Are you instead asking about your Solar Return?
I can explain.
Let's assume this is someone's Natal Chart.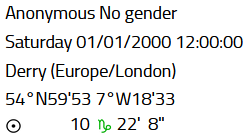 A chart cast at the exact date, time and location someone is born.
It is a diagram of one's soul, a spiritual fingerprint.
His/Her Natal Sun is 10°22'08" Capricorn.
The SR is cast from when the Sun hits this exact degree each year, based upon your location at the time.
Let's say this person was walking around Edinburgh on their 22nd birthday, at exactly 12:00:00 (12PM).
I would chart from this date, time and location, and rectify the time until the Sun aligns exactly with his/her natal Sun.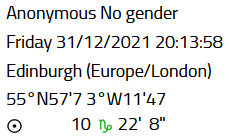 I'm wondering if, on the JoS Astro, the numbered list next to the planets is when a new one will be cast.
The left-side shows the exact positions of the Planets, and the Moon's North (True) Node (South Node is 180° Opposite).
The right-side shows the exact positions of the House Cusps.
I've squished the information close together, so it's easier to read.